Waxing for Dummies – Soft vs. Hard Waxes
Waxing for Dummies – Soft vs. Hard Waxes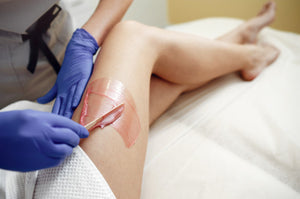 Intro
Waxing is the most widespread and popular hair removal method because it leaves your skin looking smooth and flawless. Not only women, but men are also using waxing for their hair removal needs because its longer lasting than shaving.
When it comes to getting waxing done, or doing your own waxing, you have two main options: hard wax or soft wax. Both kinds of waxes are used for particular purposes and areas of the body. So, should you go for hard wax or soft wax?
For a brief primer on hard and soft waxes, we have created this waxing for dummies guide for you.
Soft Wax
Since it is widely available and inexpensive, soft wax is the most frequently used wax in salons and spas throughout the world is soft wax. Soft wax is so-named because it remains liquid after application, unlike hard wax.
Soft wax usually comes in disposable, single-use roll-on cartridges. The wax cartridge is placed in a heater to warm up. Following that, the roll-on can be used to wax large portions of your body, such as arms or legs.
After application of the soft wax, you need to apply fabric strips on the waxed-up skin. Press it with your palm for 15 seconds and remove the strip sharply.
Soft wax is usually reserved for extended areas of the body which grow finer hairs. Soft wax easily latches onto these small, fine hair and allows for thorough removal. Though it is a bit more painful than hard wax, it is still the best option for your arms, legs, or back.
Hard Wax
Hard wax is quickly gaining popularity because of its higher comfort level, small area of application, and being great for sensitive skin.
Unlike soft wax, hard wax does not need waxing strips. It comes in packets of tablets, beads, or pellets. These are usually heated up in a wax warmer until they melt and reach a viscous consistency.
Hard wax is directly applied to the skin with a spatula to even it out. It becomes firm as it cools. Thereafter, you can remove it easily without needing a waxing strip.
Hard wax is great for sensitive skin areas and smaller portions of the body, such as face, armpits, and bikini area. Because it is more viscous than soft wax, it can easily remove even courser hairs.
It can also be reapplied to make sure hair removal is thorough and precise. Since hard wax only attaches to hair without sticking to your skin, it is one of the easiest and least painful hair removal methods to go for.
Which One Will You Go For?
As we have said above, choosing between hard wax and soft wax depends on what areas of the body you plan to wax or how sensitive your skin is. Often, it is a combination of both, which works best: soft wax for arms and legs, hard wax for facial and bikini areas.
We hope this waxing for dummies guide on the benefits of hard and soft wax was useful for you. If you're looking for some premium quality waxing options, check out our catalog!