Best Hygiene Kits for Your Child's Back to School Routine
Best Hygiene Kits for Your Child's Back to School Routine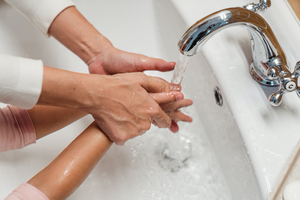 We are still under the presence of the novel coronavirus, and countries are slowly starting to begin routine operations. This means that workplaces, restaurants, shopping malls and educational institutes are likely to open in the fall.
With that being said, if your child is required to go back to school, precautionary measures are extremely important to avoid any sort of sickness. It is known that children get sick more than adults because they aren't as mindful of the bacteria and hygienic measures around them. Hence, your child should be prepared with the ultimate back-to-school hygienic kits for their safety.
What Should My Child's Back-to-School Hygiene Kit Include?
 In simple words, everything sanitary! From sanitizers to masks, your child's bag should be packed with essentials to make sure they do not fall sick and that they remain safe from any illness.
Wet Wipes
Non-woven alcoholic wet wipes are one of the first things to keep. Even though they are mostly used for travel purposes, restaurant visits or during a long road trip, wet wipes can be utilized after your child eats lunch at school or engages in physical activity in the playground.
Alera's Alcohol Wet Wipes are made from high-quality material that is friendly on the skin and does not lead to any irritation or rashes. They are disposable and can easily fit in your child's school bag without occupying much space. There are 10 pieces per pack, making them ideal for daily use.
Soap
When it comes to staying hygienic, hand washing is one of the first things recommended by any doctor. It removes germs and any sort of infectious bacteria on your hands. It also helps avoid serious infections such as hepatitis A, meningitis, bronchitis etc.
 Unfortunately, children are more prone to common or more severe illnesses because their hands come in contact with different surfaces such as toys, sand, furniture or even their own face. This can readily be avoided by teaching them the importance of washing hands and why it is necessary to fight off the bacteria present.
 A child's school is where they come in contact with various surfaces and other children who may transfer infectious bacteria onto them. Hence, your child should carry their own personal soap so that hygiene is well maintained and they adopt the habit of washing their hands without parental supervision.
 Carrying a bar of soap can be difficult and messy. Hence, these Portable Hand Paper Soaps are perfect for your children. All they require is some water and the need to rub one's hands on the soap sheets. Within a matter of seconds, your child will have bacteria-free, clean hands.
Sanitizer
Sanitizers include alcohol that kills germs present on the skin. The ingredients of sanitizers work effectively and immediately to battle any bacteria, all while cleaning and moisturizing your hands at the same time. Some sanitizers can be drying but if you purchase a good quality one, your hands will feel and smell great after application.
When your child is at school, they don't have access to water to wash their hands all the time. In this case, sanitizers work as great alternates to ensure hygiene standards are not compromised. Many sanitizers are loaded in small, portable bottles that can be attached to a school bag's zipper. This will allow consistent use and it's less likely for the child to lose the sanitizer bottle.
All in One!
If you're a busy parent and do not have the time to prepare a hygiene kit for your child's back-to-school routine, you can always purchase readymade ones. The Hygiene Essentials Kit comes with ten packs of alcohol wipes and sanitizers that are ideal disinfectants for your child. They can be stored in their school bag and used whenever the child feels it is necessary.
Hygiene should never be compromised. It is important to stay clean to avoid any sort of unexpected illness. With these sanitation ideas, your child will be prepared with the best hygiene kits for their back-to-school routine.