Debunking Top 3 Myths About Waxing
Debunking Top 3 Myths About Waxing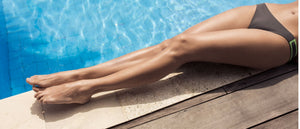 Waxing can be terrifying, particularly for a newbie. It doesn't help that there are many myths surrounding hair removal – and rumors do not help make it any better. You might end up believing incorrect information if you aren't already well-informed.
Numerous myths are floating around about body hair removal, from the best ways to wax, to its side effects on your skin. Realizing the need to clear all these misconceptions, we debunked the top 3 myths about waxing, helping you make a wiser decision when it comes to waxing:
Myth 1:  Your Hair Must Be Longer to Wax.
By all accounts, this myth may seem right.
It's not difficult to envision that if the hair is too short, the person waxing will suffer to get a sufficient grip.
Although, if you accept this myth, it implies you would be stuck waiting for your undesirable hair to develop before you can wax it once more. For some, that would be a sufficient motivation not to wax, especially when you have some significant events, date night, or celebrations coming up.
As a rule, longer hair can make the waxing hurt more. If you have been ardently complying with this myth, you'll be glad to know Alera Products' Stripless Hard Wax made out of the highest and purest quality resins is capable of getting rid of those finest of hair.
Myth 2: You Do Not Need to Exfoliate Before Wax
The idea driving this misconception is that the wax treats your skin and hair similarly. When wax pulls off hair, it also pulls off the dead skin cells, subsequently exfoliating your skin, so you don't need to.
Indeed, waxing removes some dead skin cells, but it is not at all a replacement for proper exfoliation.
It is essential to scrub away dead skin softly before waxing. It guarantees that the pores stay shut, making you less inclined to bacterial infections.
Additionally, exfoliating your skin a day before and after your wax keeps ingrown at bay, leaving your skin irresistibly soft and supple.  
Myth 3: Waxing Will Make You Scream with Pain
Waxing can be painful. The degree of pain varies, depending upon your pain tolerance.
Nonetheless, portrayals of waxing in pop culture are frequently ridiculous and exaggerated. The pain ratio depends on various factors; your stress level, how tired you are, or your hormone cycle.
 For many people, the discomfort, not PAIN, is bearable, and you become used to it with frequent waxing.
Alera Products Got Your Back
If the pain is your fear, then Alera Products' Soft Wax is all you need. This Aloe-vera infused, single-use depilatory wax is best for efficiently removing medium to thick, coarse hair down to the roots – it is made especially for sensitive skin of eyebrows and upper lips. Trusted by professionals and estheticians across the nation, Alera Products makes waxing effortless!
As one revolutionary beauty brand and product specializing in depilatory products, Alera Products strive to promote the slogan, 'WAXING MADE EASY.'