3 Things to Do Before a Bikini Wax
3 Things to Do Before a Bikini Wax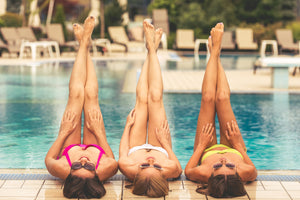 Summer is approaching, and everyone has short shorts and swimming outfits on their minds. That additionally implies considering the ideal approaches to wax, shave, or in any case, get rid of the hair everywhere, even down there; bikini wax.
While doing a bikini wax at home has its own perks, some people love the fantastic salon finish. Also, reaching out to a professional is at times a more hygienic and safe choice for hair removal. Thus, your job as a professional wax specialist becomes crucial, especially when it comes to bikini wax or Brazilian wax. Here are the top things you must do to clear out all the doubts from the mind of your clients and provide them with pro waxing services:
1: Ask Out Everything
As an esthetician, it's essential to ask about hypersensitivities, allergies, or any other skin sensitivities from your client before you begin the waxing process. This assists you with picking suitable wax in accordance with their skin type, making the entire bikini waxing procedure a lot easier.
Also, go the extra mile to facilitate your clients and explain to them that waxing around specific times can be useful, particularly since sensitivity caused by the menstrual cycle makes the waxing procedure more hurtful than it could be.
2. Choose the Right Type of Wax
Waxing may seem like a one-thing fits-all sort of thing; however, there are various kinds of waxes that tackle multiple types of skin and hair. The most significant distinction is soft and hard wax.
The kind of wax you choose to do waxing of your client depends on the area you wax.
Alera Products' Stripless Hard wax is apt for the face, bikini, and underarm, while soft wax is best for larger regions of the body like the legs and arms. Alera Products also have a range of roll-on wax to make your waxing services a lot quicker and mess-free. Choose your wax accordingly.
Alera Products, a revolutionary beauty brand, brings a range of premium waxes to help you flaunt your professional waxing services. It's All Purposes Soft Wax Aloe Vera is best for sensitive skin types. You will need Alera Products Body Wax Paper Strips for this wax.
3. Make Mind of Your Client to Endure Pain
Presumably, the unavoidable piece of waxing is the dreaded pain factor that can lure anyone to change their mind about waxing. Yet, while pain is a dreaded part of the waxing procedure, there are approaches to help reduce your client's pain
Tell them about the pain factor beforehand, and advise them to stay at bay away from triggers like liquor and caffeine a couple of days before the waxing appointment. This helps to decrease pain, making the waxing process somewhat more tolerable.
The Bottom Line
The best tip of all is to use Alera Products Post Depilatory - Milk to decongest, smoothen, and moisturize the skin, especially after a waxing sessio. We assure you that the clients will love you for considering their pre and post-waxing care like a true professional.
It is also advisable to use Alera Products Post-Depilation - Oil to clean the skin after waxing to clean semi-solids wax remainders and provide the salon-finish; the likes clients crave for!